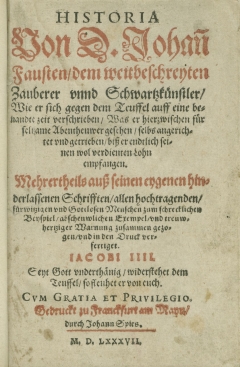 The Goethe Museum Library is a specialized academic research library devoted to Goethe and his times. It is available to the public as a reference library and contains around 25,000 volumes.
Library Opening Times:
Tuesday to Thursday: 09 – 12 am and 13 – 16 pm
Friday: 09 - 12 am
Advance registration is requested: Dr. Karsten Hein
The library holdings can be searched online via the General Catalogue of the Düsseldorf Cultural Institute Libraries.
Goethe's works are present, in all significant original editions. Two special collections are devoted to the novel The Sorrows of Young Werther and the play Faust. In the Werther-section there are all the sources, editions, translations, reviews, corrections and reworkings of the theme in dramatic form. The Faust­-collection consists of the sources for the historical Faust, the folk tales, other Faust-versions from the 16th to the 20th century, Faust in music, as well as translations and illustrations.
In addition, the historical collection contains further valuable first and early editions from the Age of Goethe. Individual works from the close circle around Goethe and the collected works of writers of the Age of Goethe form the largest part here; but contemporary reception of Goethe is also recorded. The collection of almanacs and pocketbooks from the 18th and 19th centuries along with the literary and scholarly journals of the Age of Goethe available in the collection provide a wide range of source material.
The section on art consists of biographies of artists of the Age of Goethe, textbooks on drawing and modelling, as well as works with drawings from the Age of Goethe. In addition, the Goethe Museum owns a small selection of works with silhouette drawings of important people and instructions on drawing silhouettes.
Also present are works from the poet's Weimar environment: historical representations of the city and of Goethe's residence and garden house as well as court and state handbooks, including Weimar laws of the Age of Goethe. Added to this is a small collection of libretti with Goethe texts set to music and a collection on theatre life in Weimar.
The section on Goethe's family contains works by Goethe's father and grandfather, Johann Caspar Goethe and Johann Wolfgang Textor, along with the edition of letters, correspondence and diaries of family members, operas and operetta arrangements, plays, novels and short stories by Christian August Vulpius, Goethe's brother-in-law, as well as papers from his grandsons Walther Wolfgang and Wolfgang Maximilian.
The historical holdings are being continually added to by purchases from antiquarian booksellers and at auction; secondary literature and writings on Goethe's life and works and on the literary and cultural history of the Age of Goethe are constantly being supplemented by new academic publications. In the reading room, the reader has at his or her disposal an academic reference library. It contains the most important sets of the complete works of Goethe, bibliographies and encyclopaedia of writers, artists and painters.
---
Teilen auf: